About my mission: I simply love Rock music, every sub-genre. I was never content just sharing my favorites with close friends, I had a desire to reach out and spread this amazing genre to bring it back to life. I began in 2011 on facebook with a page called "Rock Is The Best Music", and after 3 years of hard work it has reached over 3,000 fans. I've now made the leap to internet radio to further my reach. Rock will never die!

About Me: DJ Rock-O-Holic, born and raised in Golden,CO, surrounded by Country music most my early life. I got Evanescence's album "Fallen" for Christmas one year, and absolutely fell in love. Rock was for me, and my distaste for other music grew. I added Trust Company's "The Lonely Position Of Neutral" and many other albums to my collection as I entered High School, and in College I discovered my favorite alternative group, The Killers, and my favorite group of all time, "Fair To Midland". I now enjoy going to concerts of all kinds and sharing my love of rock with the world. I encourage everyone to try and discover new bands through me, and tell me about some bands I might not know! I love finding new groups to share with the world.

Powered by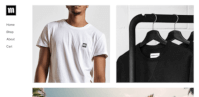 Create your own unique website with customizable templates.